AUGUST CONSTRUCTION SOLUTIONS
Precision. Passion. Purpose.
ACS is an award-winning, general contracting firm headquartered in Raleigh, North Carolina. Founded in 2013 by Michael Iovino, our portfolio spans the categories of retail, adaptive reuse, developer improvements, office space and hospitality.
We have been named as one of Raleigh's Fast 50 four out of our last five years of eligibility, an honor bestowed to the fastest growing private companies in North Carolina's Triangle region. ACS has also been recognized with numerous industry awards for our work.
Every project, every building, tells a story through the history of the structure itself, the hidden details that are given new life, and the materials and design that write the next chapter in its narrative. In turn, at ACS our projects are our story. We let the range in our portfolio, award-winning craftsmanship and the response to our projects speak to who we are, and together they demonstrate the precision, passion and purpose we bring to the job every day.
The word 'solutions' is in our name for a reason—we are active partners with a solid work ethic to get the job done. Let's discuss the possibility of working together.
Our History
August Construction Solutions is a tribute to the efforts of generations of Michael's family who have served as dedicated tradesmen, contractors and architects. We strive to carry on the enthusiasm and gratitude for our business as a tribute to all of those who came before.
August Paesano, Michael's maternal great-grandfather immigrated from Naples, Italy to Hoboken, NJ in 1886. Upon arriving in America, he saw endless possibilities for someone willing to work. He took this to heart and until his passing in 1961, August was a successful concrete and masonry contractor. He is the company's eponym – and it's an honor to use his name daily.
Naming a contractor company using middle names is another subtle hat tip. This time to two gentlemen in Southern California who had a profound early influence on Michael's professional life.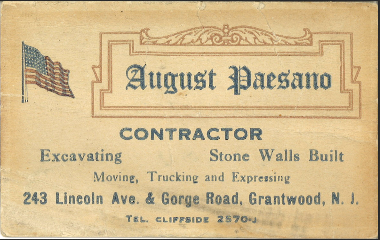 OUR AWARDS
AUGUST CONSTRUCTION SOLUTIONS, INC.
Triangle Business Journal's 2020 Fast 50 Award Winner
Triangle Business Journal's 2019 Fast 50 Award Winner
Triangle Business Journal's 2018 Fast 50 Award Winner
Triangle Business Journal's 2016 Fast 50 Award Winner
CRAWFORD COOKSHOP | CLAYTON, NC
2021 Best Downtown Design Award, Clayton Downtown Development Association
PATAGONIA | ALEXANDRIA, VA
VSMD, Honorable Mention, Retail Renovation Competition, 2021
PATAGONIA | MEATPACKING DISTRICT
RDI International Store Design Competition, First Place, Specialty Store, 2013
A.R.E. Design Awards, Grand Prize, Specialty Store, 2014
VMSD Renovation Competition, First Place, 2014
archilovers, Best Project, 2017
PATAGONIA | RENO, NV
Historic Preservation Commercial Building Award, Hudson Motor Car Company Building, 2019
PATAGONIA | PITTSBURGH, PA
VSMD, First Place, Retail Renovation Competition, 2017
PATAGONIA | NASHVILLE, TN
VSMD, Honorable Mention, Retail Renovation Competition, 2020
RAINBOW UPHOLSTERY BUILDING | RALEIGH, NC
Imprint Award, Downtown Raleigh Alliance, 2020
URBAN OUTFITTERS | ATHENS, GA
Athens-Clarke Heritage Foundation, Outstanding Rehabilitation, 2015
WEST STREET DEVELOPMENT | RALEIGH, NC

Downtown Raleigh Alliance, Imprint Award for North West Street Redevelopment, 2017
"Reverent Revitalization", Mandy Howard, Raleigh Magazine, June 2018
OUR TEAM
Our team has been intentionally assembled to offer experience and leadership across all facets of our business.